This is a very early review of a tin I purchased recently - one that I intend on adding to as I progress through the tin, to the unfortunate moment where I find myself at its end.
Captain Earle's Diamond Head is the blend, and what a blend it is!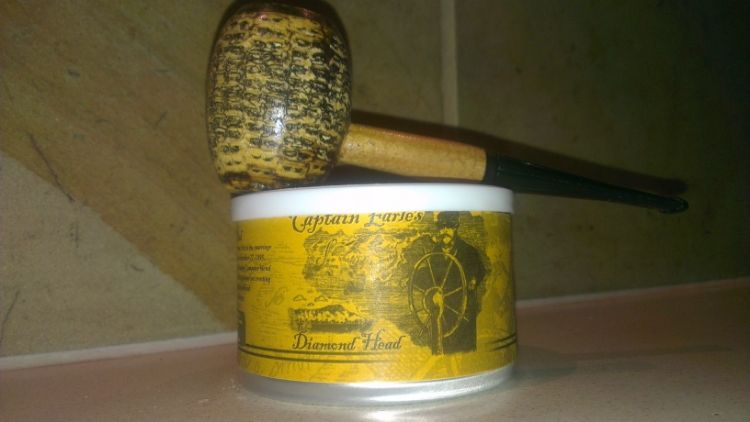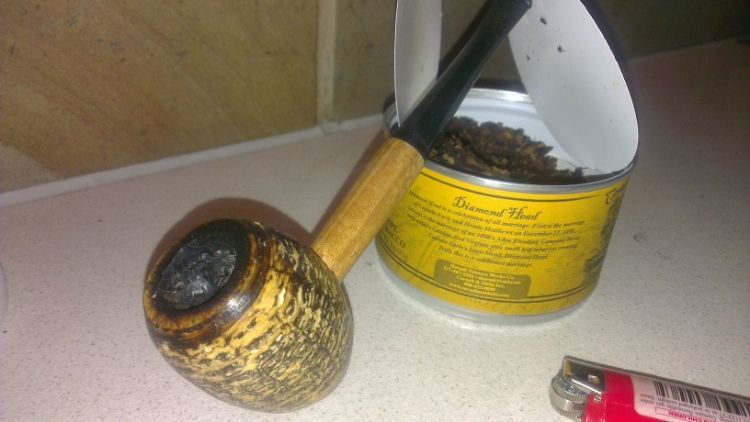 I first smoked this the other night in my straight MM CG. TO be honest, I was expecting a whole lot more. I was expecting to be blown away by this blend, but alas, I was not. Nice, but not delicious.
Last night I decided to try it in my Basil Meadows poker - a pipe with a taller and narrower bowl - to see if the flavours would change, if it would produce a better smoke.
I let it dry for about 15-20 minutes before loading the bowl and putting flame to it for the charring light.
Initial flavours were: Latakia. Smoky goodness for the first few puffs, giving way to the sweetness of Virginia.
As I made my way past the charring light, my senses were starting to get aroused, the tobacco tasted like a completley different blend than what I had smoked in the CG!
The Latakia and Turkish provided a steady beat in the background, like a drum and bass guitarist would give to an ensemble - with the Virginia looking after the melody.
What it reminded me of was citrus fruit, namely grapefruit. The Lat and Turkish sat at the back, with a taste that reminded me of the bitter and smoky flavour you might get from the skin of a citrus fruit. The Va gave the tang, the sweetness and sour taste to sit ahead of the Lat and Turkish - by now my mind was boggled!
It went on like this for much of the rest of the bowl, with the Va changinf between sweet and sour tones, and the others doing their thing, never skipping a beat. When I'd reached the end, I was truly disappointed, the flavours that were left behind in my mouth were amazing.
Contemplating retiring to bed without brushing my teeth - to savour the incredible taste in my mouth still - common sense soon got the better of me as I realised that perhaps my wife might not taste the same incredible flavours as I had!
So trudging off to the bathroom I brushed my teeth, mouthwashed and hit the hay, with memories of a beautiful smoke hushing me to sleep.
I intend on adding to this as I progress further through the tin