Get off my lawn...
No Ads Upgrade
After seeing several refrences to Invicta Briar in PSF threads I pulled up the website and started looking. Well, OK, soon I was shopping.
Following an email to ask if the Rhodesian I wanted was available in a "natural" or walnut finish and a quick response from Pete, I placed an order. The prices are in pounds, but the dollar amount is listed also and Paypal will make the conversion for you.
Now, I don't know if it is a case of being studious or slow-witted, but when I read reviews on tabaccoreview.com and the writer says it is their first bowl and with it they declare it their "all-day smoke" or their new "go-to tobacco" I'm amazed. I prefer to smoke the first bowl, the second bowl and still reserve judgement -- because often I have found my perception changes and a tobacco I did not like initially turns into a good smoke later.
The same philosophy carries over to my weighing of pipes and so these comments are after I've had the pipe about a month. It smokes great. Actually even the first half-bowl break-in smokes were wonderful.
I will note the pipe arrived with the mouthpiece opening in a tight-lipped grimace. Passing a pipe cleaner was impossible. In response to a question about it Pete was terrific. He said it must have happened during the bending of the stem -- and then he offered to pay shipping both ways to make it right. Instead I applied a little gentle heat and inserted a jeweler's screwdriver blade, and with a very slight twist up and down it opened enough for a pipe cleaner and the great smokes that followed.
For me this pipe and the pipe maker deserve high praise. Some of my praise came in the form of ordering another pipe from Invicta Briar yesterday, a Curved Pot, which I'm told is on the way already. (I don't know if you can make it out in the photograph, but it is possible to see some stippling already around the bowl as it starts to color. Something I love about smoking a natural/unfinished briar.)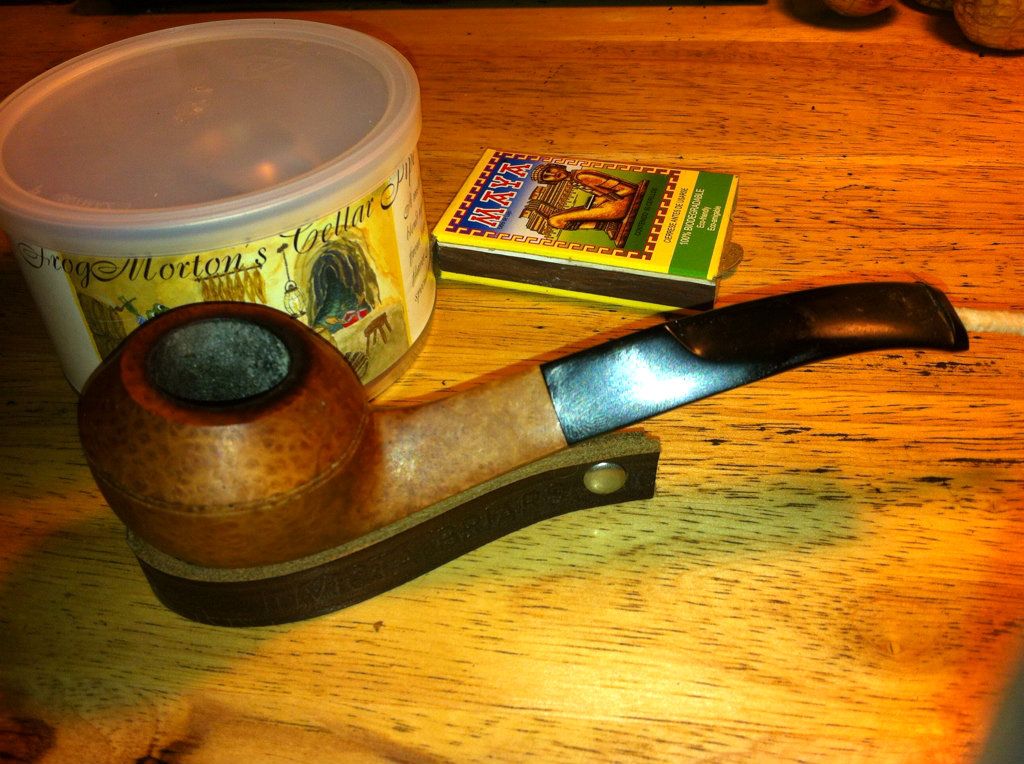 Oh, and it comes with the nice little leather pipe stand -- but not the Frog Morton or the Maya matches.