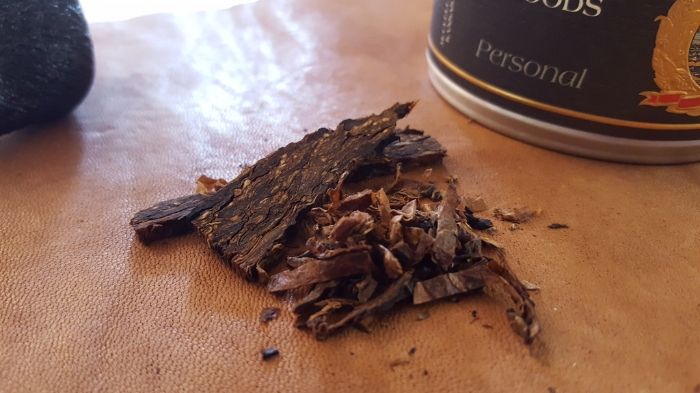 I had been wanting to try this tobacco for some time now. To be honest, the name caught my interest; about 40min from my home town in Missouri is a town called Saint James. I do realize this tobacco is most likely names for where the Perique it contains originates: St. James Perish in Louisiana.
The tin note is rather typical of McClellands "ketchup" smell being a bit of a sour/pungent vinegar scent. Now, this smell has never bothered me. I actually kind of like it. While sitting there contemplating the scents I could pick out some of the more fig/raisin-esque notes within the tobacco.
I set a few bits of the broken flake out to dry while I watched House of Cards and painted miniatures. When it was time to get back to the tobacco I rubbed it out. I noticed the distinct color difference between the flake-- rather dark-- and the rubbed out-- much brighter and visually balanced. When rubbed out it had a much stronger raisin/fig smell than before and, to me, took prominence over that ketchup.
When I lit it I found the perique very noticeable. In this first portion of the smoke I got some of the grassy and citrus notes of the Virginias within. I'm still developing my tastes and tried to notice the differences between the stoved and red virginias, and I think I could pick them out. I occasionally got some more fig/raisin like notes amongst what I am more familiar with in Virginias and the spice of the perique.
As the smoke progressed the majority of the characteristics maintained but eventually gave way to a slight more prominence of the citrus notes. Toward the end of this middle section I felt that it sweetened and I could enjoy a slightly more complex flavor pallet.
The final third brought those sweet citrus and fruity aspects of the tobacco out and maintained a forwardness over the Perique. There were occasional bouts of stronger spice, but overall it was given over to the Virginias.
Overall, the blend here of the red virginias and the black stoved work nicely with the Perique. The perique isn't overpowering, and acts as it usually does-- a spice to the main dish. I didn't have to relight once during the entire smoke. I will say it isn't the most complex of smokes, but it was a decent one.
McClelland has managed to find a prime spot in my tobacco cabinet, and this tobacco just gives further reason for that. I'm not sure I would resort to his particular blend for a multiple bowls in a day kind of thing, but I could definitely see it being a multiple bowls a week blend.